Áureo Baqueiro
Mexican producer and composer, winner of 4 Latin Grammy for his work as producer of Sin Bandera, Alex, Jorge y Lena and Natalia Lafourcade y la Forquetina.
Aureo has been nominated 2 times Latin Grammy for Producer of the Year and once as a composer for Song of the Year. His work received 2 Grammy nominations and more than 10 Latin Grammy nominations.
Graduated from Berklee College of Music where he studied "Commercial Arranging" from 1989 to 1993. He began his career at age 18 as a drummer and songwriter for pop groups like Timbiriche and Flans also developed as an arranger.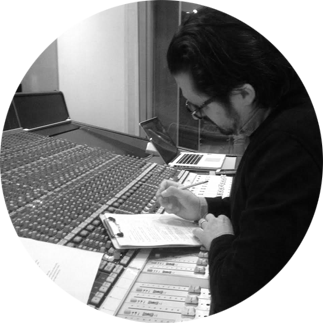 Between 1994 and 1997 he was signed as an exclusive artist of Warner Music Mexico for whom he recorded two albums with tracks of authorship and co-authorship.
In 1997 he began his career as a producer which has developed until today working with artists like Sin Bandera, Natalia Lafourcade, Alejandro Fernandez, Paulina Rubio, Motel, Leonel Garcia, Ha*Ash, Circus, Alex Syntek, Moenia, Nortec presents Bostich + Fuse, Beto Cuevas, Alex Jorge y Lena, Chayanne, Thalia, Mario Domm, Benny, Paty Cantú, Axel, Ma Jose, Emmanuel, UNO, Lu, Erik Rubin, Mya, David Torrens, Kabah, Timbiriche, among others.
In 2011 he was Music Director of the Pan American Games in Guadalajara, Jalisco, producing and co-writing the music for the Opening and Closing Ceremonies of the Games. He works from Brava! Music studio in Los Angeles, CA and Brava! Music studio in Mexico City.